How to learn Korean
What is the easiest and fastest way to learn Korean?
Enjoy and Learn.
The easiest and quickest way to learn Korean is to learn while having fun.
Teachers at EL KOREAN will help you enjoy and learn Korean.
Is it difficult to learn Korean?
Learning Korean is easier than you think. With the right approach, you can easily learn Korean.
Learn Korean according to your purpose of learning Korean and your level of Korean.
Learning Korean culture, society and history together is a fun way to learn Korean.

Hangeul is the easiest letter to learn in the world.
Hangeul is one of the most proud of Koreans. Korean alphabet created by King Sejong 600 years ago is the alphabet used to represent Korean.
Usually, if you study for about a day, you can read and write. This Hangeul can write almost all the sounds of the world. Such as '부릉부릉', '꼬끼오', '끼익'.
Learn Korean one by one with Hangeul. You can speak Korean like a Korean.

Have fun studying.
Listening to K-Pops will also help you study Korean.

You can study while watching and listening to various people's expressions in Korean dramas.
If you have any questions about K-Pop or Korean dramas, ask your EL KOREAN teachers immediately.
Listen a lot and speak a lot.
Language is learning from sound.
What do you do when you sing along the hip hop? It is the same.
Take advantage of EL KOREAN's 20-minute class for the highest concentration.
Be confident.
Fluency is different from perfect.
With confidence, you can speak fluently and comfortably.
EL KOREAN's teacher will always boost your confidence.
It is more fun to know Korean culture and history.
If you know the culture and history of Korea, you will know the meaning of Korean more accurately. EL KOREAN's community has a lot of stories about Korean culture and history. Ask EL KOREAN teachers a lot about Korean culture and history as well as Korean.
Korean learning cycle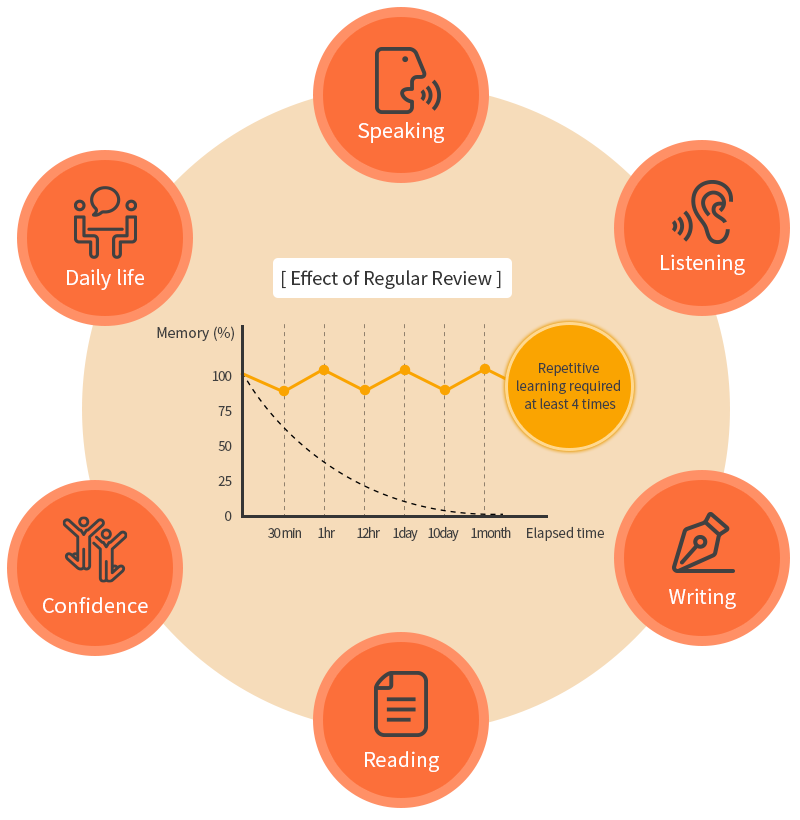 Why 20 minutes
The class time for EL KOREAN is 20 minutes. Why 20 minutes? The reasons for this are as follows:.
1. Time to stay focused
It is known that the time for the learner to stay focused is between 15 and 20 minutes.

Learning efficiency is at peak when concentration is at peak.
EL KOREAN's 20-minute classes provide students with the best Korean learning efficiency.
2. Minimal time and money
If class time exceeds 20 minutes, class time may be burdensome for students.

The longer the class, the higher the tuition burden.
That's why EL KOREAN offers 20-minute classes.
3. If you need more class time
20 minutes may be short for some people.

In that case, you can continue classes. In other words, two classes in a row are 40 minutes, and three classes in a row are 60 minutes.
Please consult with your teacher whenever you need help.
7 reasons to learn Korean
Why do you want to learn Korean?
There can be many reasons, depending on the person. Please read below and think about why you would like to learn Korean.

K-Pop and K-Drama
If you want to listen to K-pop and K-drama without subtitles, this is a good reason to learn Korean. Do you know? You can speak directly with your favorite star in Korean.
The charm of Hangeul
Hangeul is the only character in the world that knows why, how and who made it. It may be a good reason to be fascinated by the scientific characters created by King Sejong and the best scientists of Korea 600 years ago.
Growing Korea
The economic development of Korea and the remarkable growth of democracy that underpins it is hard to find a similar case in the world. Learning Korean will bring you closer to this amazing growth in Korea.
Rich culture
Korea has a history of 5,000 years. The history of 5,000 years has developed Korea's own culture while accepting diverse cultures from various countries. If you want to feel the unique culture you can't see anywhere else in the world, this is also an important reason to learn Korean.
Visit to Korea
What place would you like to visit if you plan to visit Korea? It is also a good idea to experience the nightlife of Korea, the world's highest level of safety. At this time, if you can speak Korean, it will be more enjoyable. If you speak Korean using Korean, you will be able to confirm the kindness of Koreans.
More Korean friends
There are 80 million people who speak Korean. Even if you study or do business in Korea, it is natural to make more Korean friends if you can speak directly in Korean.
TOPIK
Thinking about joining a Korean company? Make your dreams come true at Samsung, Hyundai, LG or SK. Of course, there are many other envying Korean companies. Most Korean companies prefer TOPIK high scorers. In 1997, about 2,000 people took the TOPIK. In 2018, about 200,000 people took the test. The number of candidates has increased 20 times over 20 years.