Hangeul Day Signup Bonus Event
본문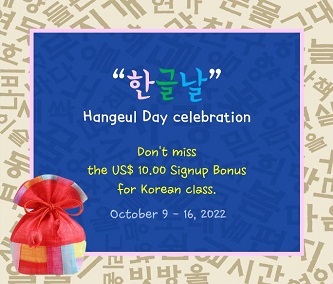 10월 9일은 한글날입니다.
한글날은 한글의 우수성을 널리 알리고 세종대왕이 훈민정음을 반포한 것을 기념하기 위한 날입니다.
한글날을 기념하여 10월 9일부터 16일 사이에 회원 가입을 하는 사람에게는 보너스 포인트 US$ 10.00를 드립니다. 여러분의 많은 참여를 기대합니다.
October 9th is Hangeul Day.
Hangeul Day is a day to promote the excellence of Hangeul and commemorate King Sejong's promulgation of Hunminjeongeum.
In commemoration of Hangeul Day, EL KOREAN is giving a bonus point of US$ 10.00 to those who sign up for membership between October 9th and 16th. We look forward to your participation.
Comments
There is no registered comment.